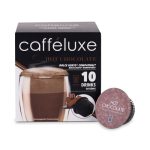 Caffeluxe Hot Chocolate Dolce Gusto Compatible Capsules
Description

Additional information

Reviews (0)
Why Choose Caffeluxe Hot Chocolate Dolce Gusto Compatible Capsules
Experience matters and Caffeluxe Dolce Gusto Compatible Capsules has perfected the art of creating exceptional hot beverages. With years of expertise, a commitment to quality, and an unwavering dedication to customer satisfaction, Caffeluxe stands as a reliable choice for your hot chocolate cravings.
10 PODS per BOX = 10 DRINKS
Signature Hot Chocolate. Ready to drink Hot Chocolate Dolce Gusto Compatible Capsules. Indulge in a cup of deliciously thick Hot Chocolate, the perfect treat for the lover of rich and creamy delights.
How to Enjoy:
Insert the Caffeluxe Hot Chocolate Dolce Gusto Compatible Capsule into your Dolce Gusto machine.
Set the beverage volume to 6 bar (for those models with water measurement) or use 180ml of hot water (for those without).
Watch as the machine works its magic, creating a luscious cup of hot chocolate.
Savor each sip